Nativity of the Mother of God
Ukrainian Catholic Church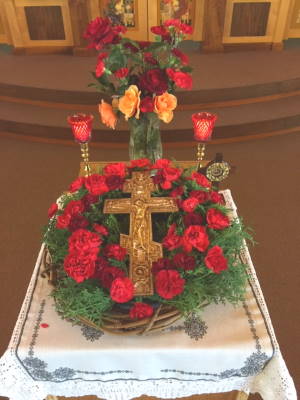 Fr. Richard Janowicz, Pastor
rjano@aol.com
John Patterson, Deacon
Cantor: Joe Escobar
704 Aspen Street
Springfield, Oregon 97477
(541) 726-7309

Nativity Parish is an Eastern Catholic parish which celebrates the Byzantine Liturgy of St. John Chrysostom.
"We believe that the venerable and ancient tradition of the Eastern Churches is an integral part of the heritage of Christ's Church . . . the first need for Catholics is to be familiar with that tradition..."
- Pope John Paul II, Orientale Lumen, "Light of the East" (1995)
"That the Eastern Catholic Churches and their venerable traditions may be known and esteemed as a spiritual treasure for the whole Church."
- Pope Benedict XVI, Prayer Intention for November 2011
---
Divine Liturgy is at 10 a.m. every Sunday
Confessions before and after any service
For directions to Nativity
Click Here
This Week
•Sep. 15
Sunday after the Exaltation of the Holy Cross
Divine Liturgy - 10:00 am
Read Homily
Epistle: Galations 2:16-20
Gospel: Mark 8:34-38
•Sep. 16
Bible Study - 7:30 pm
Book of Tobit with Carl Olson
•Sep. 18
Divine Liturgy - 9:00 am
Bible Study after Liturgy - Letter to Titus with Father Richard
•Sep. 22
Fifteenth Sunday after Pentecost
Divine Liturgy - 10:00 am
Epistle: 2nd Corinthians 4:6-15
Gospel: Luke 5:1-11
•Sep. 23
Bible Study - 7:30 pm
Book of Tobit with Carl Olson