Fr. Richard's Sunday Homily, April 8, 2018

Thomas Sunday
Jesus' Gift of Peace
---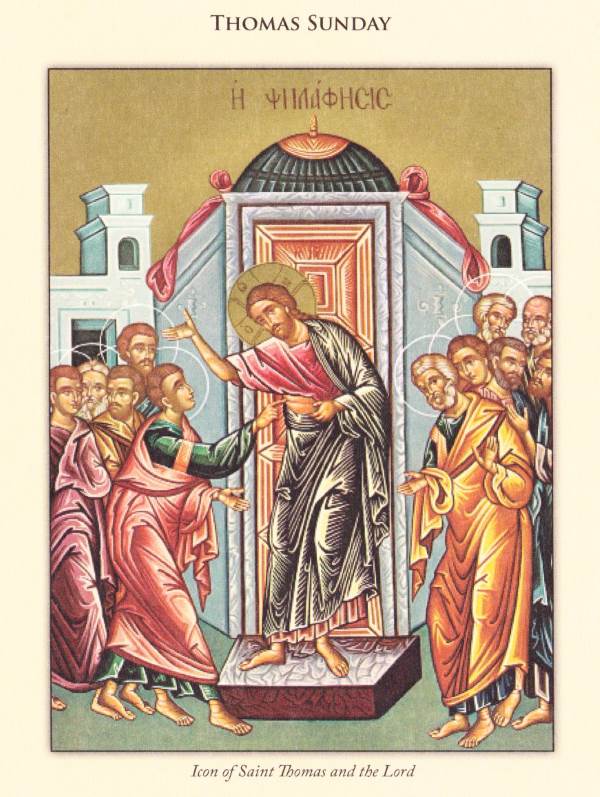 Divine Liturgy - 10:00 am
Epistle: Acts 5:12-20
Gospel: John 20:19-31
---
When Jesus suddenly appears before the disciples in that locked room, late on Sunday, the day He rose from the dead, the very first thing He says to them is "Peace be with you." He says it not once, but twice. Then the second appearance on the following Sunday, where, once again, He says at the very beginning, "Peace be with you." This re-echoes the words Jesus spoke to them on the night He was arrested when He said, "Peace I leave with you; my piece I give to you. Not as the world gives it do I give it to you. Do not let your hearts be troubled or afraid." And so, how many times every Sunday here do I say "Peace be with all. Peace be to you. In peace let us pray to the Lord."? It's a reminder of Jesus' gift of peace. The same gift He promised and granted to the disciples is the same peace He wishes to give to us, because, just like His followers in Jerusalem 2,000 years ago, we too are often troubled and afraid.

Our fears can come in every size from the very small, "I'm afraid I'm not going to finish in time," to the very, very large, "I'm afraid I'm going to die." And troubles come our way as well, both troubles caused by ourselves and our own actions, or lack of action, as in "I thought I had enough gas to get there." And troubles come from outside, "My income tax went up this year." The fears are real, the troubles are real. Our need is for peace. But I think many times what we seek for in the midst of our fears and troubles is not peace, but only a way to fix our troubles and a way to get out of fears. That's not the same as seeking peace, and certainly not the peace of Christ.

There is nothing wrong with trying to find solutions to our problems and our troubles, but even as we try to solve them we can still be at peace in the Lord. Even if we cannot fix or solve them, we can be at peace in the Lord. His peace is not a denial of troubles, but the ability to trust in Him even as we try to fix the things that trouble us, if possible, and a trust in Him even when we cannot fix them at all. We want this thing to change, we want that situation to go away, we want this problem solved. And in the midst of troubles, so often, too often, the first thing to go is our trust in the Lord, because we are so eager, so dedicated to fixing the trouble, or we are so focused on the trouble itself, that we are like the disciples in the locked room in Jerusalem before the Lord arrives. Our troubles may be great, but they are not so great that they cannot be faced with peace in the Lord. But surely when we forget Him, the problems become worse.

It is good to ask the Lord for help in our times of need, and to beg for His help when problems come to us. But at the same time let us also and always seek His gift of peace, because whether or not He grants us what we ask for, peace is a gift that's always available to us if we seek it. I think the difficulty is that, so many times, we don't really seek for it, because we are so focused on getting rid of problems and solving troubles that, strangely enough, we just don't have time or a frame of mind, to look for the peace of Christ. The only peace we want is the end of our trouble. THEN we can be at peace. We become fixated on solutions, totally focused on the trouble, and there's no room for the Lord to get in there.

Same thing with our fears. Those disciples in the locked room were afraid and we understand why. Would they be next? Would they be arrested and crucified next? What should they do now that the Master is gone, how will they carry on? It is only when Jesus is with them once again that their fears fall away. So what about us? I think we see in the lives of the disciples and of holy men and women throughout the centuries that we can, and we will, experience fears in our lives. We may fear for ourselves, or fear for others—even Jesus was in anguish in the Garden of Gethsemane. But, following the Lord's example, He Who put His trust completely in His Father's will, when we also put our trust in Christ our fears become bearable in His gift of peace, if we see Him clearly with eyes of faith.

The problem comes when we tend to live and think as though this world is all there is, as though the only real power we can see is the power we can grab for ourselves, when we think peace is the result that can come to us only when this, or that, or that happens. That's the way the world sees peace. But for us peace comes not necessarily in solutions, not necessarily in changes, not necessarily in the removal of threats to life and safety. Peace, genuine peace, comes only when we embrace the Lord as Thomas did. If we put our lives in the hands of the Lord, if we surrender ourselves to Him as completely as we are able to do, if we decide, more and more and with ever-greater conviction, to trust in Him above all others, above all things, above all results that we want to see—if we place ourselves in front of Jesus, asking Him to help us see like Thomas did, our Lord and our God, then we shall find peace, His gift to us.

We do not need to probe the wounds of our Lord to find peace.

We just need to call out to Him in faith.