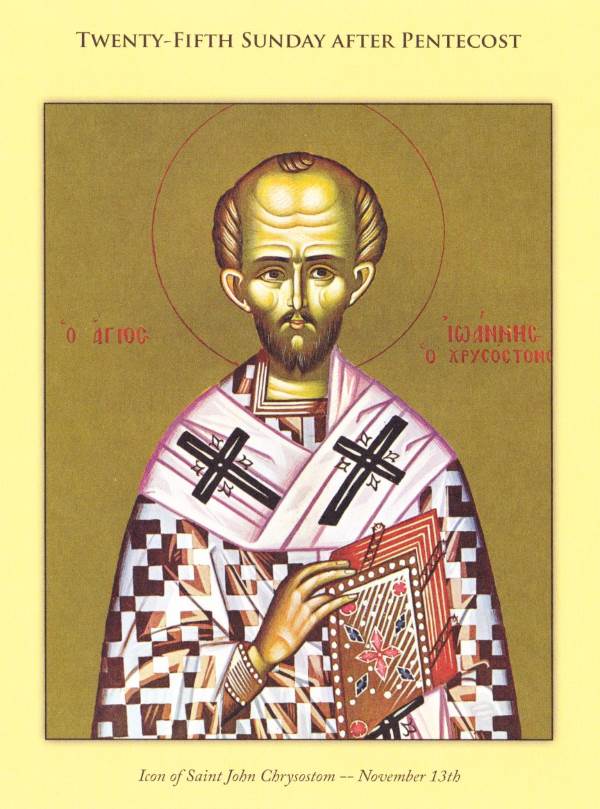 ---
Epistle: Ephesians 4:1-6
Gospel: Luke 10:25-37
---
I've never been away from the parish for three weeks before, so it's good to be home. I especially want to thank those who took care of the building and all that was needed for Sunday Liturgy, for those who took care of the property and repairs, especially the leaf collecting. Sincere thanks to all of you who helped.

I do want to talk a bit about my trip. I did enjoy it very much but it was not like a vacation. Bishop Benedict set up my schedule for what he wanted me to see and do while I was in Ukraine. I visited the Archeparchies of Kyiv, Lviv, Ternopil and Ivano-Frankivsk, and the eparchies of Stryi and Drohobych and the metropolitan archbishops and bishops, and all their chancery offices. I visited the chancery offices of the Patriarchate and concelebrated with his Beatitude, Sviatoslav. I visited the shrines of Zarvanytsya, Stradch, Hrushiv and Univ Lavra. I was up every day at 5:00 or 6:00 and often did not finish until 8:00 or 9:00 at night, so though it was a great experience it was also a working trip.

At present, Ukraine is a poor country with the lowest personal income in all of Europe. People have an average income of $276 per month (although in the capital city it is substantially higher). The economy had been crippled by the Soviet system which produced a massive amount of governmental corruption and theft, a group of wealthy oligarchs and a system that delivers the most to the fewest. The population is about 42 million, but millions of people are working outside of the country in order to have a better material life, but this also hampers the growth of the economy at home.

The strength of any nation is always its people, and the strength of the people of Ukraine is the Christian faith, especially in most of the areas I visited. The years of Soviet oppression left a country that was largely ignorant of the Christian faith, although many considered themselves to be Orthodox believers and would attend services several times a year without a true understanding of the Faith, and of course, during Soviet times the Ukrainian Greek Catholic Church was illegal and could only practice as an underground Church. The situation since independence in 1991 has improved and over time more and more people have returned to the churches of their ancestors. 72% of the people belong either to the Orthodox or Greek Catholic Churches, so unlike the USA where there are many, many churches of all different types in Ukraine as you travel you only see domes and cupolas, not church steeples.

But in the areas where I visited faith was impressive. All of you have heard of the great shrines of Fatima and Lourdes, but did you know that several years ago over 100,000 young people made a pilgrimage to the shrine at Zarvanytsya and at some times during the year up to half a million people show up at this shrine which is located in a tiny village in western Ukraine. The churches I celebrated in were packed every Sunday and the faith of the people attending was quite obvious. Although there are many elderly people in church there were also many young adults and children everywhere. One custom, for example, that is not seen here is for people to come to the front and knell in reverence when the Gospel is being read, with their heads bowed in great respect. In one village I was walking in there was not enough room in the church, so the Liturgy was broadcast over loudspeakers to people standing outside the church.

I was very impressed by the dedication of the priests I met along the way. They always welcomed me with the greatest hospitality and kindness, even when the language barrier was large. For example the young priest at Zarvanytsya told me that during special pilgrimage days in the summer he might be hearing confessions for 8-10 hours a day. He said that last summer he told one woman he would be back in a few minutes because he had to use the bathroom. She pulled him back down into his chair and told him he could go after he had heard her confession. This is serious repentance. Priests' salaries are very small, so in order to support themselves and their families they rely on the small offerings people give them when asking for prayers at the Liturgy, and of course this is not a reliable method for figuring out a budget. But the priests were happy and confident. The seminary in Lviv has about 200 young men, and there is another seminary just 60 miles away! I often felt ancient among all the young priests. I was told that the oldest priest in the Archeparchy of Kyiv was 67!

In every eparchy I visited there was great optimism and many plans underway to educate the people in Faith, and not just church services but in many other different ways because the social services provided by the government are very, very little, and the needs are always great. So the church is stepping in to try and fill those very human needs as much as possible, with planning for the future as well.

Both priests and lay people would, of course, like to have more comfortable material lives but the fact that they must live, for the most part, with just the basic necessities does not have a negative effect on their faith. For so many people having their parents living with them in small apartments or houses, where everyone is sharing bedrooms is not a great burden but a normal part of family life. Walking great distances to attend Liturgy in an unheated church is nothing unusual. Believing that prayer is a vital part of every day life and making the sign of the cross when passing a church or shrine is simply how one ought to live. You can feel in a very definite and substantial way the difference in faith between the Church in Ukraine and the Church here in America. And I do not want to suggest everything is perfect there. It's not. But this experience has given me some great food for thought about my own Christian life and ministry, as well as for our own parish life here. I will need to think about it and pray about it more in the days ahead, because there was so much to experience in such a short time that I need to consider it in the leaf-laden tranquility of home. So, thanks be to God and to Bishop for providing this opportunity for me. You can see some of my travel and experiences on my Facebook page. The rest will be shared this winter on Fridays after Presanctified.