Fr. Richard's Sunday Homily, July 7, 2019

Fourth Sunday after Pentecost
Healing the Soul
---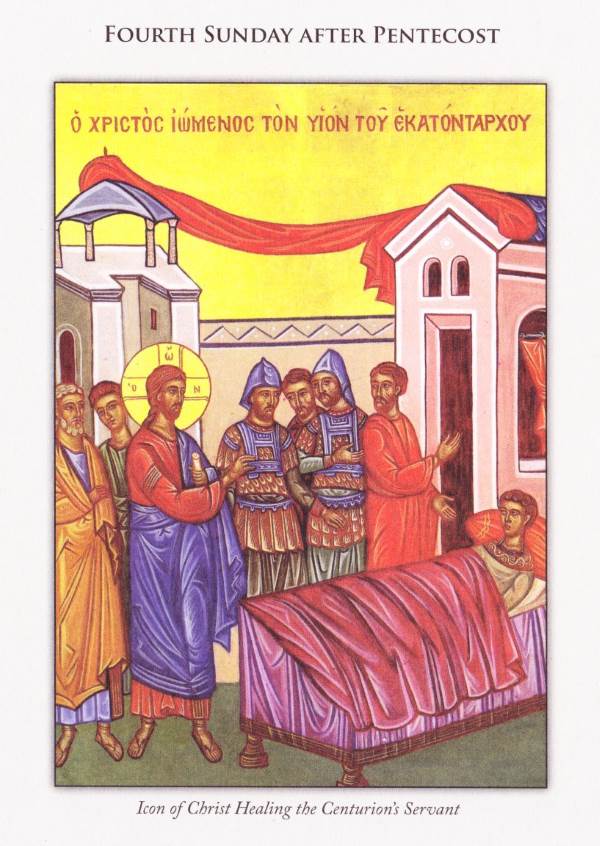 Epistle: Romans 6:18-23
Gospel: Matthew 8:5-13
---
Whenever I hear this Gospel, whenever I read it, I always think of healing not simply in the physical sense, but the healing of the whole person. We often pray to the Lord to heal us, or other people, from physical disease and illness and that certainly is a good thing. But it's not the only kind of healing we need, it's not the only kind of health we should pray for. That's why at every Liturgy we ask the Lord, "May the partaking of Your Holy Mysteries be not for judgment or condemnation, but for the healing of soul and body." The healing of our bodies, yes, but also the healing of our souls. Our souls need healing. We should ask the Lord for this healing, not just at Communion time, but even every day.

The first and most important part of the healing of our souls is the repairing of the damage I have done to myself because of my sins. Our sins wound us. They wound our relationship with Christ, they wound our relationships with other people; they leave us weaker. We don't feel that as directly as we do if we cut our finger badly because we lost control of a knife. We can't see our souls and look at the wounds we carry, but we are indeed in need of healing for our spirits every bit as much as we may need healing for our bodies. The wounds of sin in our life are very real but there is a Doctor we can turn to Who is capable of curing the damage. But we need to ask Him for His healing touch.

There are other kinds of healing we may need also, which may or may not be the result of our sins. Sometimes they may be the result of other people's sins. No matter where or why they affected us, we should pray for the healing of memories. The memories of our sins, the memories of painful, upsetting, disturbing events and actions of the past that still cause us pain today are memories that the Lord can treat. These memories may be so strong that they put us at risk by tempting us to do wrong, to doubt in the power of the Lord's grace and mercy, to fill us with shame for sins already confessed and forgiven, to oppress us and depress us and tempt us to lose hope. Painful memories can weigh us down with aches and sorrow, making it difficult for us to walk in the freedom of the sons and daughters of God. We may not be able to forget them, but that's okay. What we need to do is ask the Lord to cure them so that these memories do not continue to harm us and interfere with our desire to live more faithfully, in peace, in Christ. We should pray the Lord to heal our bad memories.

We should pray for the healing of our emotions. We may need help with anger, or resentment, or envy, or pride, or feelings of worthlessness, or sadness. Too many times we allow our emotions to push us this way or that way. We let them tell us what to think and how to act and it's simply true that most often our emotions are not working for our good. Simple enough: how many times yesterday did you feel irritated, frustrated or impatient? Now, how many times yesterday did you feel happy? This is why we should never allow our emotions to make our decisions for us. More often than not, they will take us down the wrong path. It is very likely that we have some strong emotional habits that are not good for us or good for others. Why that is so is not really important. What is important is that when these emotional habits appear we ask the Lord to heal them, because what we can not do on our own He can do for us.

Think on these things, please, because we probably do not think much about the health of our souls, not nearly as much as the health of our bodies. But as we are a unity of body and soul, spiritual weakness and illness can even affect our physical health in ways we may not see.

It is always good for us to turn to the Divine Physician as the Centurion did, that we may be healed for our physical ills, for the wounds caused by our sins, for the healing of bad memories and for treating the emotions that are trouble for us. We are not worthy, but even so He is willing to enter in under our roofs. When He comes let us greet Him and ask for the healing of our souls and bodies.