Fr. Richard's Sunday Homily, September 8, 2019

Feast of the Nativity of the Mother of God
Choosing the Better Part
---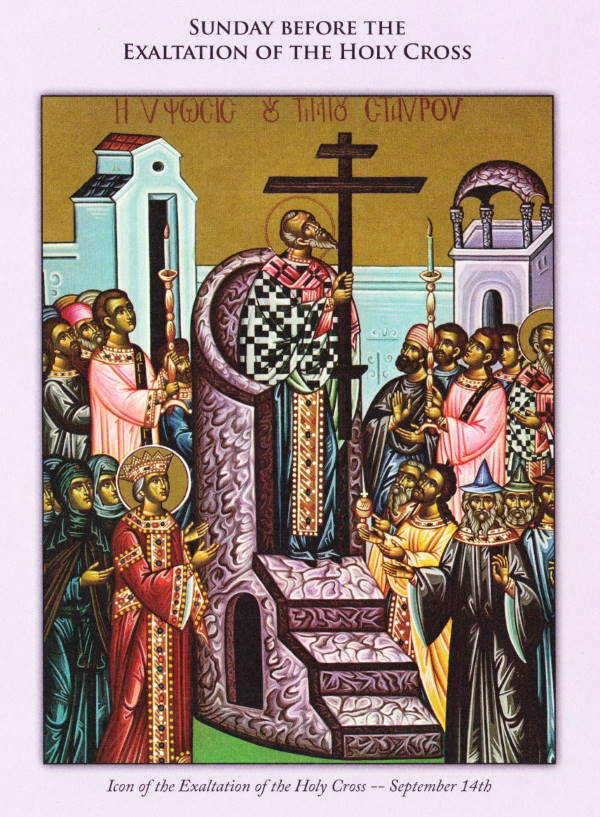 Epistle: Philippians 2:5-11
Gospel: Luke 10:38-42 and 11:27-28
---
Two sisters and Jesus. Martha is working hard to get a meal prepared. Mary is sitting at Jesus' feet and listening to his words. Is it a surprise that Martha is getting frustrated that she's doing all the cooking by herself? Is it a surprise that she wants Jesus to tell Mary to help her? A very natural reaction isn't it? I can easily see myself acting the same way. It's tempting to think that Mary is the spiritual person who only wants to listen to Jesus, while Martha is the material-minded sister, who is only concerned about getting food on the table. That's an easy way to look at this gospel but I don't think it is correct.

Sooner or later they all have to eat, even Jesus. It's not that Martha is doing something wrong or bad in preparing the meal, and Mary is the one doing good instead. It's not a question of right and wrong. Instead let us listen to the words of Jesus when He says, "Mary has chosen the better part and it will not be taken from her." The better part, not the only part. The other part is to make lunch. That's good too. But Mary has the better part because right here, right now, it's better to listen to the words of the Lord than it is to roll matzoh balls. Lunch can wait.

This is for us also. We are constantly making choices throughout our days, to do this or that, to be here or there. If we want, we could divide all those choices into words or actions that are good or bad. But we are reminded today that there is more to our decisions than that simple way of looking at them. There is also the category of "better." Both of these choices may be good, but one may be better than the other, and we should always try to choose the better part because it's not just the good thing to do, it is the "goodest" thing to do.

Should I read the Bible for another 15 minutes or should I help my wife with dinner? Should I clean the house, or should I go to vespers? Should I help Alice with her homework or Bobby with putting together his model airplane? How much kale does a person really have to eat before they can be considered health-wise? Our choices are not just about good and bad, right or wrong. They are also about better and not as good. It's a good thing to read the Bible, but it might be better, just right now, to help my wife with dinner. Just because we're doing a good thing doesn't mean that right here and now it is the best thing to do. Just because we are not sinning that does not mean we are doing our best to act in virtue and in faith. It's okay to have sympathy for Martha, but let's love the choice of Mary to listen to the words of the Lord, because lunch can wait. Or they could order out at Dominos.

I think it's easy to assume we always choose what's best, because if I chose it, it must in fact be best. We may not catch ourselves, and it can happen we are not choosing the better part because we are lazy, or self-centered, or unhappy, or frustrated, or impatient, or for many other reasons. So, this gospel gives us something serious to think about today. We ought to choose not just what is good, but also the better part, the better choice, the wiser decision. [Mary at the Annunciation says, "Let it be done according to your word." Mary at the Cana wedding feast says, "Do whatever He tells you."] It's not always easy to know what that is, but if we ask the Lord to guide our lives, if we're willing to listen to Him, both in His words in Scripture and to His guidance by the Holy Spirit, we can certainly continue to learn and have the wisdom to choose the better portion. Why don't we try that even today? May the Lord give us the grace.